We would like to introduce you to some of our
volunteers for the 1999 gardening season.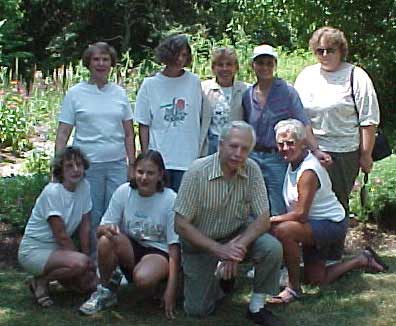 Back Row:
Joyce Vile, Katherine Michaels, Marlene Dyer,
Donna Janssen, Kathy U'Selis
Front Row:
Shirlee Sherman, Jen U'Selis (Girl Scout Troop 826),
Lou Sherman, Janet Hanson
Not Pictured: Bonnie Caimi, Mary Findley, Paula Fuhrmann, Carol Horton, Jeremy Kearns, Sandra Keegan, Deb Lux, Pat Plant, Angie & Dave Tandy, Barbara Van Hook, Mimi Williams
Contributors: Russell Gardens Wholesale allows us to shop at wholesale prices for perennials for the butterfly garden as well as our home gardens. K&D Growers, Rushland, PA and Leck's Nursery, Feasterville both contributed flats of annuals to get us started in the spring of 1999. Lisa Stillman of Hatboro graciously allowed us to dig perennials from her abundant gardens for transplant into the butterfly garden. A special thank you to all the friends and spouses who helped us haul the hoses out and water, water, water in a most difficult gardening year.
Our new water system was provided by:
Vince Caimi Plumbing and Heating
Warrington, PA

Pennscapes Environmental Contractors
Southampton, PA
Web site: www.pennscapes.com
These two companies volunteered the expertise and labor. The Friends of Tamanend donated money for the plumbing supplies. Shirlee Sherman donated $100 for equipment rental and Lou Sherman supervised the project. A special thank you to everybody for the support and hard work!